Two Canadian Kids Win Global Car Design Contest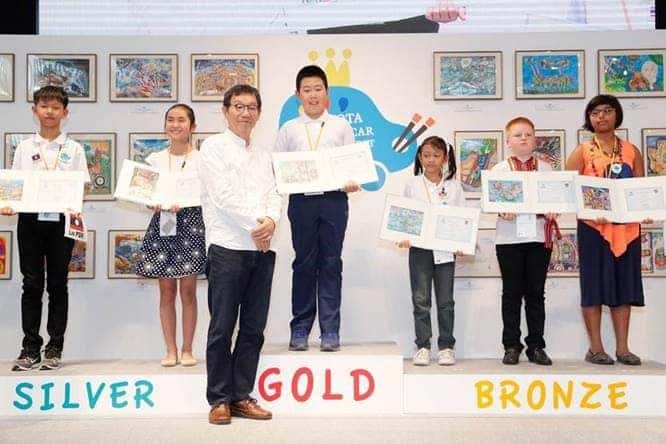 Two Canadian youth – both from Vancouver, BC – have been awarded for their innovative designs at the Toyota Dream Car Art Contest global awards ceremony in Japan. Their artwork was selected from amongst approximately 830,000 entries in this year's contest, representing 79 countries across the globe.
For 10-year-old Ryan Liang, who claimed the gold medal in the 8-11 age category, it was his first year attending the Dream Car Art Contest awards ceremony, and he was thrilled that the time and hard work he put into drawing his artwork was recognized.
"I like that I am able to express my imagination through my drawings," said Liang. "And there are no limits to what I can create on a sheet of paper."
13-year-old Noelle Yau, who won silver in the 12-15 age category, was also a previous Dream Car Art Contest finalist in 2015. This year, she returned to Japan with her parents.
"It gives me the confidence to know that I have the potential to be an artist," Yau added. "And being at the ceremony in Japan means that I get to share and learn from other talented artists from around the world."
As part of their trip to Japan, the two Canadian children and their families spent the week participating in workshops, learning about Japanese culture and history, touring the Toyota factory, and sightseeing in Tokyo.
Winning Design Concepts by Canadian Kids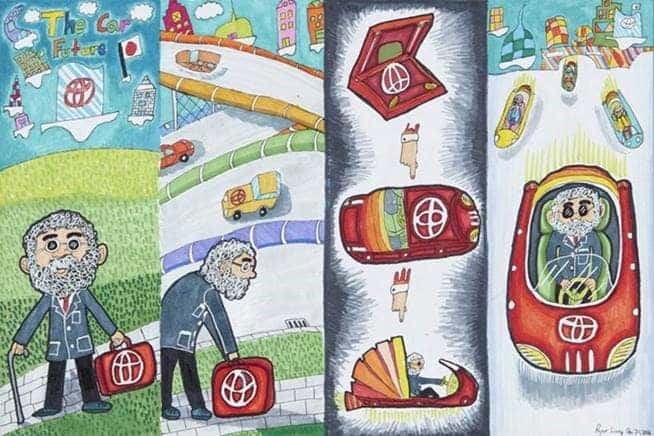 "The Suitcase Car" (Ages 8-11 – Gold)
Ryan Liang (Canada, Age 10)
Ryan's "Suitcase Car" is a portable vehicle that can be folded into a suitcase. With the simple press of a button, it can unfold and become a car. Not only is the vehicle compact and portable, but it can also hover the earth and can help people escape natural disasters.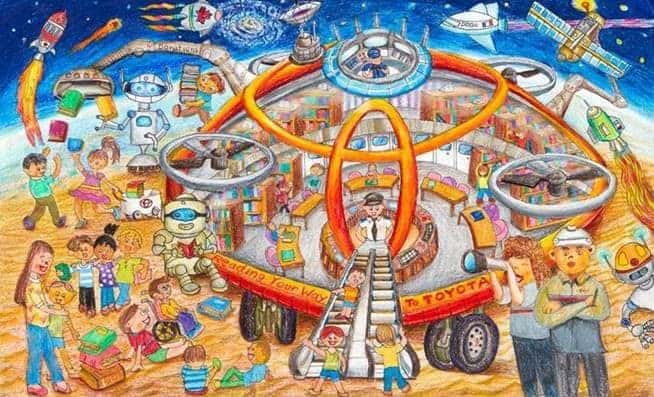 "Toyota Mobile Library" (Ages 12-15 – Silver)
Noelle Yau (Canada, Age 13)
Noelle's "Mobile Library" car is designed to fight illiteracy and give people in developing countries access to education. The vehicle is equipped with advanced technology and can travel anywhere on earth by air, land, or water, making knowledge accessible to everyone in the world.
The Toyota Dream Car Art Contest aims to inspire creativity in children around the world and strengthen the importance of having dreams, while providing an opportunity to develop an interest in cars. Thanks to the support and cooperation of communities around the world, the contest was able to mark its 11th year in 2017.
National contests were held around the world from October 2016 to March 2017, with the winning artworks submitted to be judged in the world contest. Under the guidance of President Akio Toyoda, chair of the judging panel, art experts and automotive specialists from outside Toyota judged the entries and selected the award winners in the contest's three age categories.
For more information on the Toyota Dream Car Art Contest, please visit: www.toyota.ca/dreamcarartcontest
Winning artworks of the 11th Toyota Dream Car Art Contest, as well as photos and video content from the awards ceremony, can be downloaded from the following URL: http://www.image.net/dream_car_art_contest_2017